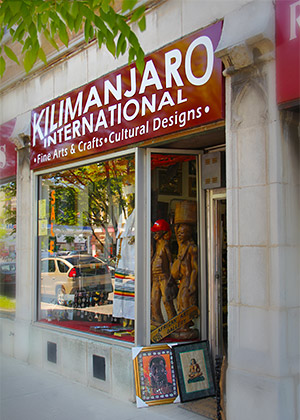 As the owners of Kilimanjaro International Inc., we want to thank you for taking an interest in our website! We welcome you to visit our African and cultural arts store in Chicago's famous Hyde Park. We have been here for over 20 years and are committed to the local community as well as to international charity work that helps to improve the lives of both the elderly and deprived children.
We are blessed to be so well-received in our home away from home, Chicago!
Our store is located on 53rd St. & Kimbark, where you'll find African masks, handmade jewelry, fashions, Kupona Tea, Kupona soap, Black soap and handcrafted bags, as well as sculptures, paintings, and African fabrics.
We also provide African cultural designs such as dashikis, grand boob, and much more. If we don't have it, we'll get it for you; if we can't find it, we'll make it. "If we can't make it then you don't need it!" Women, Children & Men are always welcome.
At our shop, the love of African heroes is evident. Explore our shop to find 'Who's Who' in African fine art such as Dr. Martin Luther King Jr., Muhammad Ali, Malcolm X, Marcus Garvey, William Carter, Gus Nall, E. M. Nolan, Dr. M. Burroughs, Bill Ross, J. Matthews and many, many more…
We love to create art – whether it be one-of-a-kind African culture-inspired dresses, or very unique "conversation piece" jewelry and a surprisingly large variety of merchandise that will entice your soul!
Forty percent of  our proceeds benefits The Homeless Youth Artist Mentor Project,  The Lonely Forgotten Elders (here at home and abroad) & The African Travel Boot Camp Program For Deprived Children.
This project is for us to train and teach young people to have the skills and empathy to work with the forgotten elderly. If they have the opportunity to interact with our vibrant youth, then they don't have to experience unnecessary loneliness.
Things are getting better all the time and we appreciate your support of our small business. Remember, we all play our part in making a community.
We welcome you to visit Kilimanjaro International Inc. to shop and help our vision come true. We extend our heartfelt gratitude to you.
THANK YOU FOR YOUR ENDLESS SUPPORT!
Our motto is: "It Can Be Done, Play Your Part."